Dedicated ship supply company Sea Services looks after international, ocean going vessels, supplying the products required to keep them operational, including food and beverages, charts and navigation equipment, spare parts, appliances, crew welfare items, cooking chemicals, cleaning and operations, and safety equipment.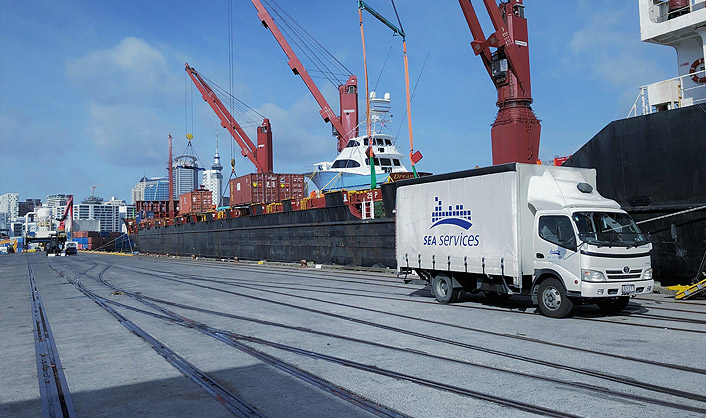 Customers include cargo vessels, fleet vessel managers and operators, cruise liners and the occasional super yacht. Cargo vessels are serviced 24/7 year-round, with Sea Services servicing these clients in Northport, (Whangarei), Auckland and Tauranga. But the company is also called upon when customers visit Taranaki (New Plymouth), Gisborne and Napier. Cruise liners visit from spring to autumn and Sea Services arranges supplies for them in major NZ ports, and as far afield as Papeete, Rarotonga and Noumea.
Sea Services can trace its origins back to the 1970s when two young men became involved in the ship supply industry after leaving high school. Tony Pak, now Sea Services' managing director, was employed by Weddel Meat Processors in their ship supply operation, while founder Brian Hewitt began his career with Gillman and Watson, also supplying vessels.
Back in the 1970s, most vessels visiting NZ were bulk carriers, refrigerated vessels and cargo ships. Containerised transportation was in its infancy. Railway lines ran along Quay Street as far as Princes Wharf and constantly in use. Most vessels called into port for days as loading/unloading operations took time.
Brian says "In 1977, when I started Sea Services, Columbus New Zealand, Columbus America and Columbus Australia were the biggest container ships to visit. At 1200 TEU, today they would barely be considered adequate as coastal feeder vessels." Very few cruise liners called back then and a visit from a liner was an occasion which would draw onlookers down to the port to catch a glimpse of an elite ocean-going 'greyhound'.
"The average cargo vessel had 35 crewmen and would be in port for three to four days. Sea Services used to supply three or four ships a day. Back then, an oil tanker visiting the Marsden Point oil refinery would have 50 to 60 crewmen, including maintenance teams, and an order for 1,000 cases of beer was not out of the ordinary.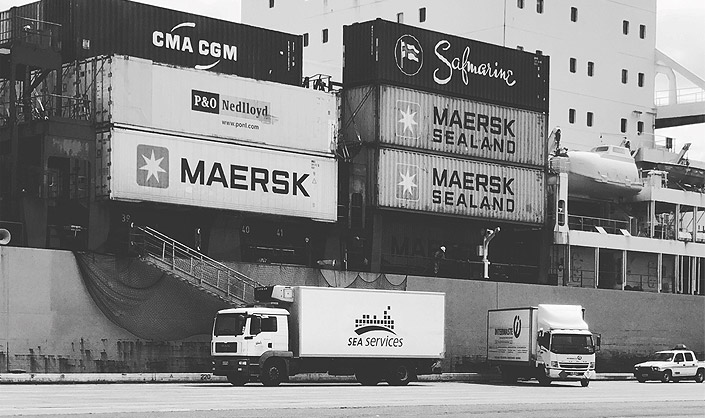 "In the 70s and 80s most ships did their maintenance on board, not in a dry dock like today. In 1977, Auckland still had two ships a week bringing in phosphate and sulphur for the fertilizer works. The pipeline from Marsden Point wasn't built and Sea Services supplied smaller oil tankers, bringing product from off-shore and down the coast every week. "There was always a ship in port bringing in crates of CKD (completely knocked down) cars. Auckland was visited by a far wider variety of ships and many more of them than we see today."
While Brian formed Sea Services, Tony took his employer, Weddel Ship Stores, up on the opportunity to purchase the ship servicing division and McCallum Trading was born. There was plenty of business to go around.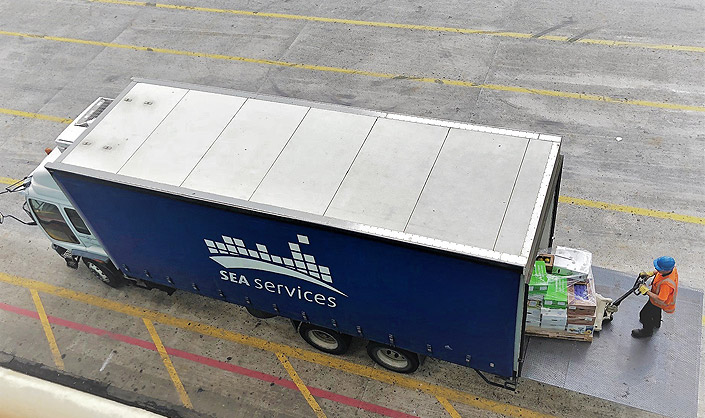 Freight containerisation, equipment advances and computerisation have made freight movement more efficient. Vessels visiting NZ are now much larger and require, on average, only 22 crewmen to operate. Today a container ship will be in and out of Fergusson terminal in 12 hours or less. In the mid-1980s the volume of business in the industry shrank, resulting in fewer ship supply companies. In 2002 McCallum Trading acquired Sea Services and both business operations combined under Sea Services (2002) Ltd.
Today, Sea Services is the largest dedicated ship supply company in NZ, with a committed team of 22 including fully qualified Officer of the Watch, professional chef and a combined shipping experience more than 150 year. Deliveries are made to vessels around the clock from a warehouse in Penrose and investment in state of the art equipment and facilities ensures they meet customers' needs, including purpose built freezer and chiller units, computerised ordering systems, substantial warehousing and stock on hand, and a fleet of delivery vehicles.
Being based in Auckland, NZ's busiest port, linked to Tauranga, the second largest port, has given the company opportunity to grow to its current size. And with a third of the population, Auckland offers the widest range of products, at the most competitive prices, so taking stores is cost effective and convenient for customers.
Whether supplying a cargo vessel or a cruise ship, it's all about service. On every ship coming into New Zealand, the crew is a multi-national team, nothing is NZ standard and they rely on Sea Services to get all the equipment required for a ship to operate. Sourcing and logistical supply involves working around tight timeframes and jumping through hoops to meet customers' needs to 'make it happen', operations supervisor Darrell Lines says.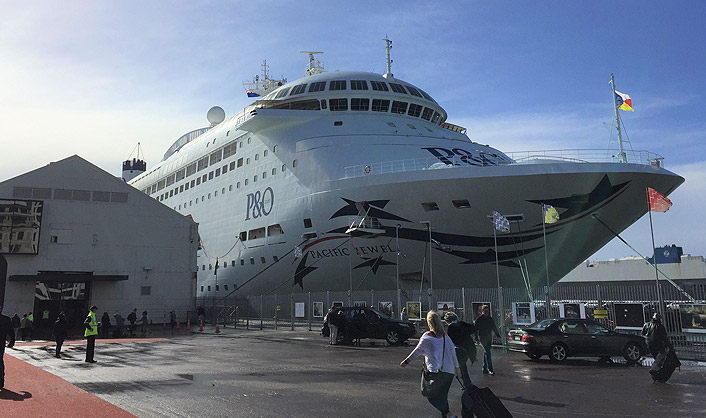 Our reputation in the industry stands us in good stead," he says. A team of trusted suppliers enable the company to provide the products required. "We deal with customs, bio security, stevedores, port operations, the ships themselves and we utilise our knowledge and expertise to ensure the products are delivered to the vessels at the scheduled time.
"We work 24-7, 365 days a year to service our customers' needs," Darrell says. "So the level of dedication of staff, suppliers and the company itself required to meet those needs is what has made the company such a success over the years and we expect to keep meeting those needs moving forward."
Testimonials
May 2018
As a company we have recommended Sea Services for almost 30 years to our ship owner principals and their ships, whom have used them and their services. We have found them efficient, swift and accurate, and with a great attitude that no job too small nor too big, and we would recommend them to anyone! Regards
May 2018
We have used Sea Services many times and have always found their service above expectations, with an attitude to get the job done especially when faced with short turnaround of orders, as a vessel agent to know when the order is placed and that it will be followed through to the end is highly important to us. Best Regards
May 2018
I have been involved in the New Zealand Shipping Industry for over 30 years and for the most part involved in the Ship Agency/Husbandry sector attending to all manner of foreign-flagged Container, Conventional multi- purpose, Car Carriers and International Fishing vessels. During this extended period of time I have had a close working association with Sea Services Ltd, lead for many years by Tony Pak they are Customer focused and have the "Can Do" as opposed to the "Can't Do" approach which is essential in this industry where Ship requirements often mean supply in a matter of hours not days! I have always found Tony and his team very approachable and willing to go the extra distance in assisting with supply whether for large orders or conversely for smaller orders of a specialist nature. Their Signed Invoicing is on time and in a manner that assists greatly when third party recoveries are required from our side. We will continue to use Sea Services Ltd in Auckland and Tauranga and when necessary at other New Zealand Ports they cover and would highly recommend their company for all your Ship Chandlery & specialist supply needs. Kind Regards
October 2017
ISS-McKay as Shipping Agents have had a long and successful relationship with Sea Services in utilising their provedoring knowledge and experience for supplying vessels on all types of ships stores during their port calls under our agency. We are more than happy to recommend Sea Services (2002) Limited as a preferred supplier for ships Chandler requirements. ISS-McKay Limited. Best Regards
April 2018
Matson South Pacific Ltd has used the services of Sea Services (2002) Ltd for over 5 years since we established our shipping office in Auckland and have always found them to be efficient, courteous and contentious. The team at Sea Services have provided us with the 24 / 7 service that is essential in the shipping business and they have always been able to help and to supply what was needed at sometimes very short notice and also over statutory holiday periods. We would not hesitate to recommend your company to anyone requiring your services. Best regards,
September 2000
Dear Agent Next time you are talking to McCallum Trading can you tell them that the meat was very good and the fillet steak out of this world. Our American passenger has sucked on the finest steak in Washington at highly inflated prices but has never tasted anything so good. Luckily we have the cook to do it justice. Would deal direct but as you know our emails in New Zealand are no good outside of the company network. Regards
August 1998
This is to confirm McCallum Trading (formally Weddel Trading) has been nominated Provedore for Blue Star Line Ltd for the past 40 years, during this period they have served their clients i.e. the shipping company and the vessels staff in an exemplary manner, displaying all the qualities required as a service provider i.e. nothing is a problem. Blue Star Line require quotations from all recognised provedores in Australasia on a two yearly basis in order to maintain a cost effective, premium quality and importantly an efficient service system for the provedoring of our vessels. With reference to the quality of the goods supplied one can only comment that we receive frequent compliments from our passengers (normally elderly Americans who are by nature very fastidious) that the product when presented to them in the dining table is second to none. Therefore we have no hesitation in recommending McCallum Trading to any prospective organisation wishing to utilise their services. Yours Faithfully
December 1996
Since the buyout of former Weddel (NZ) Ltd provedoring business by McCallum, Trading ltd in 1994, the company has continued to offer a high quality first class provedoring service to Blue Star Line Prices are competitive and the quality of the food is such our ships Masters wherever possible arrange for storing at Auckland in preference to anywhere else in Australasia. We also enjoy an excellent relationship with their principal Mr. Tony Pak who has many years of experience in the business and provides a high standard of personal service to the vessels and our company. We have no hesitation in recommending McCullum Trading Ltd to any other shipping company contemplating the purchase of the ships stores. Yours Faithfully